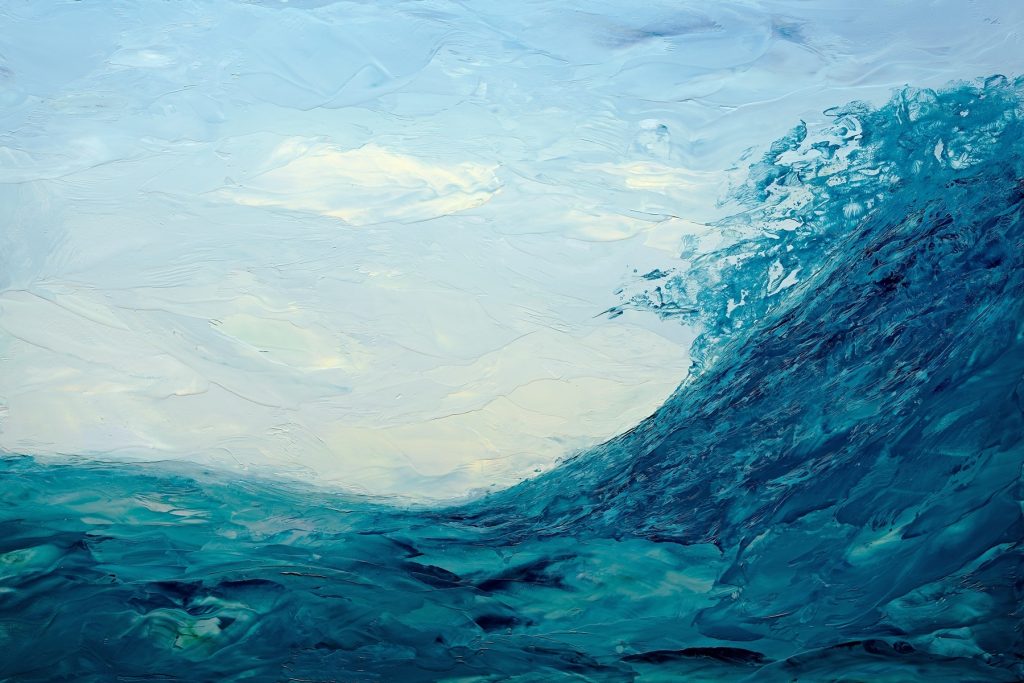 Georgian Chroma X is part of a series of twelve paintings that were inspired by the colours and behaviour of Georgian Bay (Ontario) waters along the northern Bruce Peninsula (a UNESCO World Biosphere) shoreline, an area to which I have been regularly returning since my youth. The Bruce Peninsula delineates Georgian Bay (north side) and Lake Huron (south side) waters. Georgian Chroma X was painted using oil and wax on a 24 x 36 inch cradled birch panel.
About Georgian Chroma X:
It feels big! I wanted this painting to convey a sense of open space so I limited the number of elements to only water and sky. This removes all points of reference (for scale) so that I could more readily convey the power and might of the waters of Georgian Bay.
There is a lot of water! The water is rendered in both static and blurred states which gives it a sense of depth and weight. You feel like you might get swept away. This entices the viewer to explore the entire surface of the painting, both horizontally and also upwards to the right, helping to create the impression of a great expanse of water.
You can see into the water! There are areas that are depicted in a manner similar to looking through water from below the surface. This provides a sense of depth to the water and introduces some visual tension due to the painting's overall perspective being that of looking across the surface of water (and not below).
You feel like you just might get splashed! The large wave on the right side is poised to break and crash down onto the water's surface. There are trickling streams of water running down the wave's leading edge and also water splashing from it creating a sense of urgency and motion.
Even the sky seems to move! The sky is rendered with sweeping swaths of overlapping colour and texture to echo the movement of water and emphasize the sense of motion throughout the piece.
It was quite exciting both planning and painting Georgian Chroma X. Once I started working on it, I had to continue until I was completely finished. I wanted to capture a feeling of uneasiness and the sense of turbulent water moving around the viewer. I've been in tenuous situations where I've been surrounded by towering waves where all I saw was water and sky…and the canoe was shifting around and I was getting splashed…

Michael C
If you found this article interesting, subscribe to receive information about my work and creative process, and also get access to my free ebook about becoming more creative.