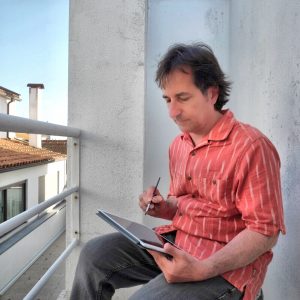 Michael Christidis is a Canadian visual artist who lives in Toronto. Christidis is best known for his luminous multi-layered paintings depicting the majesty of the Canadian wilderness, which is a common theme throughout his work. Like many Canadians, Christidis grew up with romantic notions of the Canadian landscape and a respect for the great painters who wove the fabric of Canadian national identity. He became fascinated with nature, and this encouraged him to explore the world around him through drawing, painting and photography from an early age.
Living in a country like Canada, with its vast untamed wilderness, dramatic scenery, diverse geology and four seasons, allowed the artist to develop a profound connection with, and appreciation of, the forces of raw nature. His work directly reflects this deep interest in nature, and its subtle, yet powerful, beauty. This lifelong investigation into these ephemeral and elusive qualities has evolved into a unique style that is neither literal nor imagined, defined nor abstract.
Michael Christidis systematically experimented with diverse mediums and methodology to develop a unique aesthetic. From photography and watercolour to oil paint, Christidis has taken pleasure in learning about the properties specific to each medium. This combination of learned skills has come together over the years to create a painting style that is truly original. Christidis's practice has evolved into what is now his quintessential style. The deliberate application of intense colour to dramatic scenery often evokes an emotional response from the viewer, whether on large or smaller canvas sizes. Techniques derived from his own practice add a translucent quality to the works and offers unusual and personal glimpses of breathtaking scenery.
Michael Christidis studied design, art history, still photography and film production at Ryerson University in Toronto. Many of the techniques used in his latest bodies of work are considered by the artist to be self-taught and have been developed over many years. Christidis has exhibited in Canada and the United States and has been included in a number of private collections.
Artist Statement:
I consider myself fortunate to live in Canada, a vast country with varied landscapes and raw nature at every turn. I enjoy travelling and experiencing majestic landscapes. Though I've visited many places, it is the Canadian landscape that continues to inspire me the most. Art about the beauty and forces of nature can remind us of one of humanity's most profound hopes—that we live in harmony with the natural world.
My style combines traditional realism with elements of abstraction. I work methodically and thoroughly enjoy the feel of pencil and pastel on fine paper, the feel of brush bristles and palette knives, choosing colour palettes and which brands of paint to use—the entire creative experience from concept to design to the finished piece.
I am inspired by the qualities of light, and I strive to convey the feel of water and skies in my landscapes.
Subscribe to my private mailing list to receive information on work, my creative process and status updates for new art releases.